Assistance Animals
Information about assistance animals and service animals.
The Americans with Disabilities Act (ADA) defines a "service animal" as a dog that has been individually trained to do work or perform tasks for the benefit of an individual with a disability. The Act also allows trained miniature horses as alternatives to dogs, subject to certain limitations.  Service animals are working animals – NOT PETS.
The ADA requires businesses to allow people with disabilities to bring their service animals into their establishment, even if the establishment has a "no pets" policy.
Service animals are not an animal that provides emotional support, crime prevention or comfort / companionship because it does not perform specific tasks associated with a person's disability.
Assistance dogs are trained to assist people with specific needs relating to their disability and may perform guide, hearing, seizure alert, scent alert, or physical assistance skills. Assistance dogs may be trained by a program or by a private trainer or disabled handler.
Emotional support animals, comfort animals, and therapy dogs are not service animals under Title II and Title III of the ADA. Other species of animals, whether wild or domestic, trained or untrained, are not considered service animals either. The work or tasks performed by a service animal must be directly related to the individual's disability. It does not matter if a person has a note from a doctor that states that the person has a disability and needs to have the animal for emotional support. A doctor's letter does not turn an animal into a service animal.
Mass.gov has information about assistance animals and service animals.
Disability Rights for Users of Service Animals
Assistance Dogs International
Assistance Dogs International (ADI) is a coalition of not for profit assistance dog organizations. The purpose of ADI is to improve the areas of training, placement, and utilization of assistance dogs, staff and volunteer education, as well as educating the public about assistance dogs, and advocating for the legal rights of people with disabilities partnered with assistance dogs.
Assistance Dog United Campaign (ADUC)
The Assistance Dog United Campaign (ADUC) is a health and human welfare organization which provides financial assistance to individuals who have the need for an assistance dog but have difficulty in raising the necessary funds and to people and programs whose purpose is to provide assistance dogs to people with disabilities.
5860 Labath Avenue
Rohnert Park, CA 94928
Email:info@assistancedogunitedcampaign.org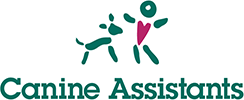 Canine Assistants
Trains and provides service dogs to enhance and improve the lives of children and adults who have physical disabilities, seizure conditions or other special needs.
3160 Francis Road
Milton, Georgia 30004
Phone: 770-664-7178
Toll Free: 800-771-7221
info@canineassistants.org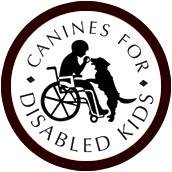 Canines for Disabled Kids
CDK will travel to you and present an educational program on assistance dogs and the ADA, will help families raise funds in the community. CDK staff member is available to help families sift through the organizations; asking questions and prioritizes the needs of their child to help them select which organization is best for them.
255 Park Avenue
Suite 601
Worcester, MA 01609
Phone: 978-422-5299
Email: info@caninesforkids.org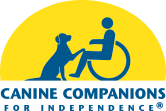 Canine Companions for Independence
People with physical or developmental disabilities who can demonstrate that a Canine Companions assistance dog will enhance their independence or their quality of life are qualified to apply. Also eligible are professionals working for organizations that provide physical or mental health care to clients who will benefit from interaction with a facility dog.
Northeast Regional Training Facility
Miller Family Campus
286 Middle Island Road
Medford, NY  11763
Voice/TTY: 631-561-0200
Fax: 631-561-0230
Toll free: 800-572-BARK (2275)

Cares
CARES offers canine assistants to people across the United States. This aspect is what makes CARES so unique among other canine assistance schools. CARES is one of the only schools that acts as a center for independent living, which is the provision of services to the elderly and disabled. Another quality that makes CARES unique is that they are one of only a few of canine assistance schools that accepts applications for children and persons with multiple disabilities. CARES aspires to offer choices so that disabled persons will have the opportunity to strive for greater independence.
For more information, please feel free to contact Sarah Holbert, Megan Lewellyn, or Amanda Blackwood at 800-498-1077.
P.O. Box 314
Concordia, KS 66901
Voice or TDD: 785-243-1077
Toll Free: 800-498-1077
Fax: 785-243-1079
E-Mail: cares.ks@sbcglobal.net

Pet Partners
Provides advocacy and education on behalf of people with service animals; information about the selection, training, stewardship and roles of service animals; and referral to service animal training programs and related resources.
Pet Partners
875 124th Avenue NE
Suite 101
Bellevue, WA 98005
Phone: 425-679-5500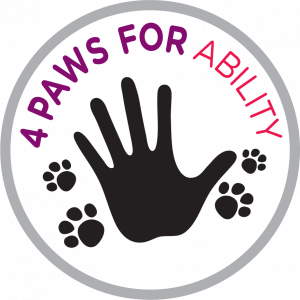 4 Paws for Ability
Dogs are trained for children and young adults with epilepsy, autism, diabetes, FASH/DE, and hearing loss. They also have an Assistance Dogs for Veterans program.
253 Dayton Avenue
Xenia, OH 45385
Phone: 937-374-0385
Guide Dogs for the Blind
We prepare highly qualified guide dogs to serve and empower individuals who are blind or have low vision. All of our services are provided free of charge; we receive no government funding.
P.O. Box 151200
San Rafael, California 94915-1200
Toll Free: 800-295-4050
Guiding Eyes for the Blind
Guiding Eyes is a 501(c)(3) nonprofit organization that provides superbly bred and trained guide dogs to men and women who are blind or visually impaired. All services are offered free of charge to people who are blind or visually impaired and to families with children with autism.
611 Granite Springs Road
Yorktown Heights, NY 10598
Phone: 914-245-4024
Toll Free: 800-942-0149

Helping Hands: Monkey Helpers for the Disabled
Helping Hands monkey helpers are trained and placed to assist individuals with daily in-home activities.  While the majority of our clients live with a spinal cord injury, there are other people with injuries or illnesses that can benefit from the unique skills of our service animals.
541 Cambridge Street
Boston, MA 02134
Phone: 617-787-4419
Email: info@monkeyhelpers.org
Application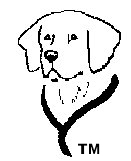 The International Association of Assistance Dog Partners (IAADP)
provides information, resources and networking to assistance teams across the country. Members of IAADP are also eligible for financial assistance to pay veterinary bills for serious injury or illness that would otherwise prevent an assistance dog from working. They offer an Assistance Dog Loss support line.
38691 Filly Drive
Sterling Heights, MI 48310
Helpline: 586-826-3938
Email: INFO@IAADP.org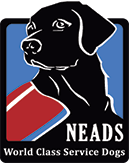 National Education for Assistance Dog Services (NEADS)
Our Assistance Dogs become an extension of their handlers and bring freedom, physical autonomy and relief from social isolation to their human partners who are deaf or have a disability.
305 Redemption Rock Trail South
Princeton, MA 01541
Phone: 978-422-9064 (Voice/TTY)
Email: jvautour@neads.org

North Star Foundation
Provides assistance dogs for children. Our mission is to help children who face social, emotional or educational challenges with the help of animal assisted therapy, school visits and assistance dog placements.
20 Deerfield Lane
Storrs, CT 06268
Phone: 860-423-0664
Email: pattydobbsgross@gmail.com

Paws With a Cause
Paws With A Cause® enhances the independence and quality of life for people with disabilities nationally through custom-trained Assistance Dogs. PAWS® increases awareness of the rights and roles of Assistance Dog Teams through education and advocacy.
4646 South Division
Wayland, MI 49348
Phone: 800-253-7297
Sierra Delta's mission is to empower every Veteran, disabled and non-disabled, with access to approved dog training that provides purpose, innovation, and community through the love of dogs.
ADA National Network: Service Animals and Emotional Support Animals
Service Animals and Emotional Support Animals: Where are they allowed and under what conditions?
American Kennel Club Service Dogs 101—Everything You Need to Know –  A service dog is a dog specifically trained to perform work for a person with a disability.
Fact Sheet last updated on: 1/19/2023