Contact Information
2 Rehabilitation Way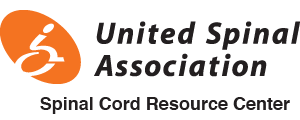 Woburn, MA 01801
Phone: 781-933-8666
Email: info@sciboston.org
View the National Spinal Cord Injury Association website
Information Specialist: Greater Boston Chapter of United Spinal Association (GBC) Staff
Hours: Monday – Friday, 10 AM – 5 PM
Additional Locations: Spaulding Rehab Hospital  300 First Ave Charlestown MA 02129
Organization Narrative
National Spinal Cord Injury Association, Greater Boston Chapter (GBC) is a 501 (c) (3) organization working to Reach, Inspire, Support and Empower individuals and their families affected by spinal cord injury and paralysis throughout Massachusetts.
Population(s) Served
GBC members include individuals with a spinal cord injury and paralysis, their families, health care and rehabilitation professionals, policy makers, and others.
Services
GBC provides access to resources, vital information, peer visitors, advocacy and educational information. From the moment of injury, GBC provides one-on-one services to the newly injured and those around them as they learn to cope with dramatic change and adjust to post-injury life.
Eligibility/Criteria/Enrollment
No information.
Fees
No information.