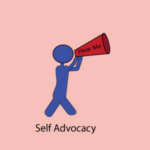 COVID-19 Info for Self-advocates
COVID-19 info in plain language by and for self-advocates.
Mass Advocates Standing Strong (MASS)
MASS advocates across all areas. Their work includes:
legislation
special projects
individual self-advocacy
Self-Advocacy Leadership Series (SALS)
The Self-Advocacy Leadership Series (SALS) is an eight-class series. Classes focus on the fundamentals of leadership. The SALS is designed for young adults with ID/DD between the ages 17-22. It is also available for older adult groups. Classes are taught by a self-advocate peer trainer.
Disability Law Center's Self-advocacy Materials (.pdf)
You Will Learn About:
DDS Eligibility Of Services
DDS Definitions For Eligibility Of Services
After The Eligibility Decision
Massachusetts Down Syndrome Congress (MDSC)
The AIM: Teen & Young Adult Program, also known as just 'AIM', is for 13 to 22 year olds and their families. We get together during the school year to have fun, meet peers, and learn new things!
Offers a 6-month internship to provide an adult with Down syndrome, age 22 or older, the chance to work in the MDSC Burlington office on a project of their choosing.
S.A.A.C. (Self Advocate Advisory Council)
For our adults with Down syndrome and their friends and families, MDSC offer quarterly programming called 'SAAC' events. Ideas for SAAC events come from adults with Down syndrome in the MDSC community. Events are planned by Self-Advocate Advisory Council members.
Arc of Opportunity's Self-Advocacy Group
Arc of Opportunity's Self-Advocacy group is led by individuals with disabilities from within this organization and without.
Center of Hope Foundation Building Bridges
Building Bridges is an organized Self-Advocacy Group. Group is facilitated by CoHF staff and comprised of individuals with disabilities.
Successful Advocacy and Social Skills for Youth (SASSY)
The SASSY PROGRAM will engage Autistic and Typical teens and young adults ages to express and interact with each other developing social skills through weekly activities such as:
Social Skills Development
Health and Fitness
Daily Living Skills
Emotional Development
Life Skills
Job Readiness Skills
Community Advocates Board (CAB)
The Community Advocates Board (CAB) is a self advocacy group comprised of individuals served in Beaverbrook STEP's programs and services.
Watch City Self-advocates is a program of Opportunities for Inclusion. Mission is to empower self-advocates through education. Sslf-advocates can make choices that improve and enrich their lives.
United Arc Self-advocacy Clubs
The United Arc sponsors self-advocacy groups which offer peer support, leadership development, social events and learning opportunities for adults with intellectual or other developmental disabilities.